I seem to have aquired a Unimog !
You know those things that you want but don't need, well I am pretty sure that my new Unimog falls into that category.
I bumped into the factor of the neighbouring estate whilst driving through the forest in the Pinz. He was quite impressed with the Pinz and said if I liked that sort of thing I should take a look at his 'fire engine'. I took a drive over the hill and was quite surprised to discover that his fire engine was actually a Unimog with a big tank and a pump on the back.
He said that it had not been used in anger for about five years and he was thinking about selling it. A few whiskys later and I found myself the slightly bewildered owner of a Unimog. It fired up first time and I drove it over the hill through the forest back to my house. Everything appeared to be working fine until I approached the steading to park it and for some reason the brakes no longer worked and I 'parked it' in the wall. Damage to Unimog zero, damage to steading football sized hole in the wall. The Mog is currently parked in front of the hole to hide it from my wife !
It evidently needs a bit of TLC but I think it will be a lot of fun, my son has already asked if I can take him to school in it
.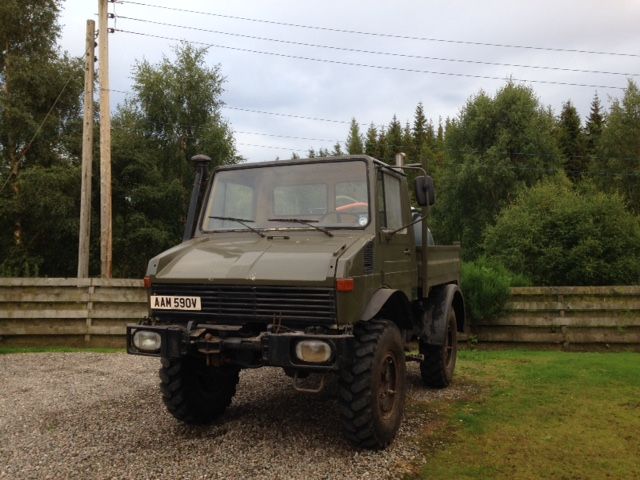 Fri, 28/08/2015 - 10:37
#1
Re: I seem to have aquired a Unimog !
I have nothing by admiration for you! I suspect that a bunch of flowers and a cringy evening at the opera-type of thing will also not suffice to keep your better half from putting you into the proverbial dog house. Well done anyway: time will (have to) heal all!
The Unimog has been on my DEFINITELY don't need, but DEFINITELY want list for a number of years......one fine day! I would be very interested to hear your views on how it compares to the Pinz off road. I imagine that in the bog it will be better simply because of the tractor-like wheels/tyres and ground clearance, but down/up twisty scree tracks with plenty of larger rocks I'm not so sure. When you get the brakes (and wall) fixed, please let us know what you think.
Enjoy,
Phileas